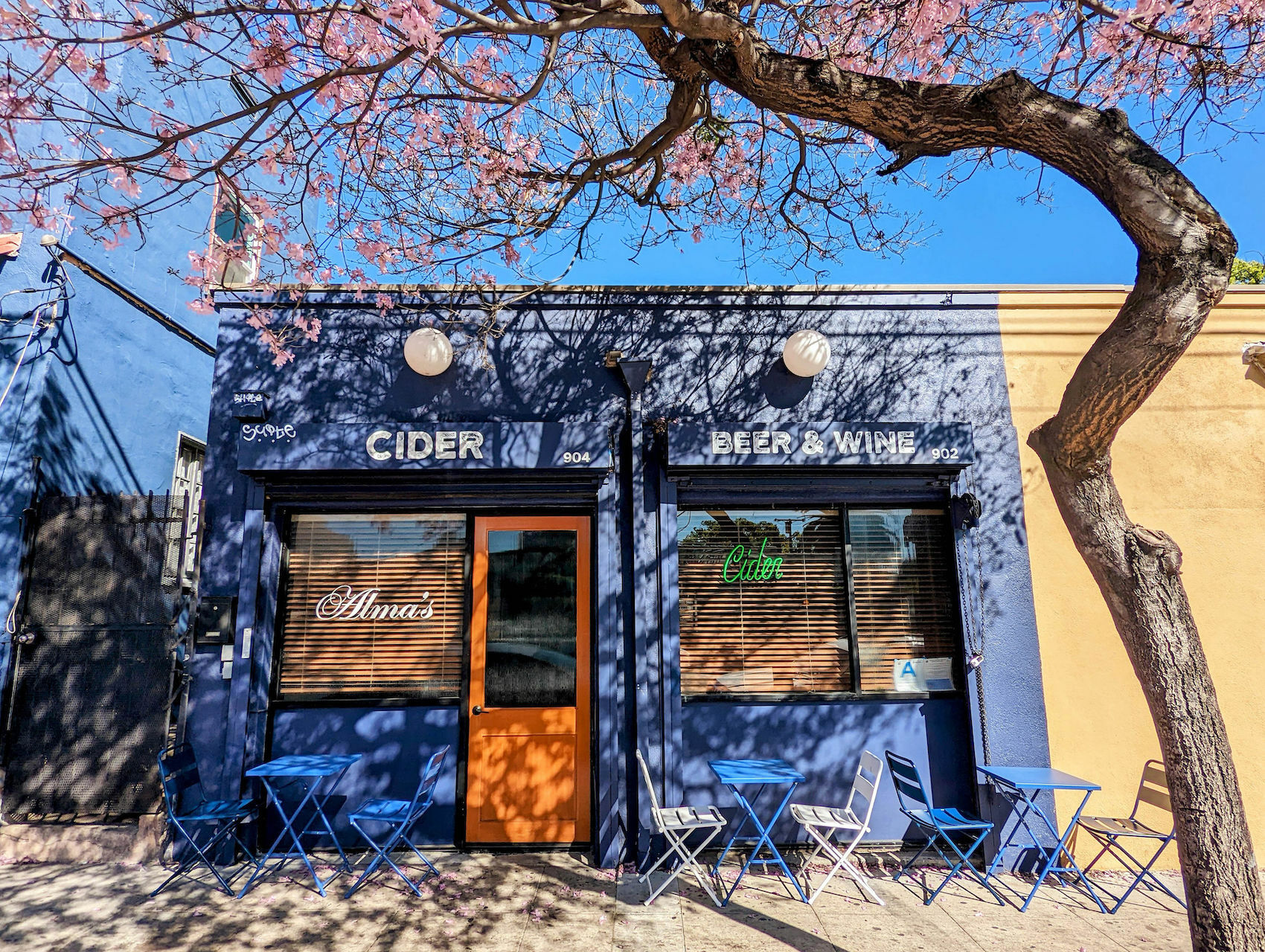 Alma's Cider and Beer is the cozy neighborhood bar of your dreams
For some Angelenos, a crowded room with loud music, expensive drinks, and sticky floors is kind of the perfect way to hang out with a friend, meet someone new, and even, surprisingly! have fun. For everyone else, there's Alma's Cider and Beer, an intimate Virgil Village bar that's the opposite of each of those descriptors. Specializing in a global assortment of ciders but offering both namesakes, the cozy bar adjacent to Silver Lake might not have your typical standard cocktail fare, but Alma's delicious bar bites (namely, waffles). , the ultra-chill atmosphere and knowledgeable bartenders more than make up for it.
Unlike most LA drinking establishments, you can actually hear yourself thinking inside Alma's, which plays an eclectic collection of national and international jazz at just below conversation level, as you ponder to its collection of over 100 unique ciders and take a look at the mirror menu on the wall listing everything on draft that week. Spend enough time inside and your eyes might wander the dark blue interior of the bar, which houses a few spare prints on the wall and not much else. However, a closer inspection of the windowsill will reveal Alma's adorable Easter egg: miniature Z-scale scenes, which owner Lee Briante – formerly of the still-closed Echo Park's Button Mash – has quarantined.
In the all-too-common moments of decision paralysis, Alma's bartenders, including Briante himself, will be happy to guide you to anything you might want. Sweet and sweet? Try Perry Miloslawski, a semi-sparkling Polish cider made with pears instead of apples. Tart and dry? You might find Trabanco Sidra on tap, imported from Spain. Like nearly every natural wine bar in town, Alma's unique stock of cider and beer is constantly changing, so don't be surprised if the paper menu you're handed is already out of date. While that means the chance to revisit favorites from your last visit isn't always guaranteed, Alma's quintessentially esoteric new cider selections are a source of novelty and delight for the casual cider aficionado or anyone who enjoy exploring the outer limits of their palate's comfort zone. .
Still available, however, is Alma's extremely waffle-centric little food menu by Diego Argoti, formerly of Bestia (who also runs local pop-up Estrano). Even the bar's well-equipped charcuterie plates come with a single mini Belgian waffle alongside chunks of rustic sourdough bread. Our favorite order, however, is the Hong Kong-style bubble waffle. Each airy, vegan waffle is drizzled with agave, tahini and crispy chili – a winning mix of sweet, spicy and salty that's easy to tear apart with your hands. More traditional mini waffles can also be ordered a la carte sprinkled with cacio e pepe, smothered in cinnamon sugar or with good old butter and maple syrup. In addition to the bar's limited small plate menu, Alma often hosts Estrano and other local sidewalk pop-ups. While this expands the bar's on-site dining offering, it can also draw large crowds, so check Instagram ahead if you fancy a quieter, more relaxed evening.
Located just steps from the Virgil Avenue stretch home to Ken's Ramen, Kinkan, and lords AM Sqirl and Courage Bagels, the Alma accommodates just 28 seats, making it ideal for solo travelers, dates, and weekends. groups of less than four people. A greater number than this will generally flood the small bar, decreasing the particular I do not know what which probably brought you Alma in the first place. On trickier weekend evenings, be prepared to try your luck at the equally small Bolita next door or the natural wine bar Melody up the street; after all, you're not the only one looking for a low-key bar where you can actually have a conversation.
The atmosphere: An eclectic and rather hipster neighborhood bar perfect for first dates, fifty-somethings and reunions with friends.
The food: Waffles, charcuterie and (just a little) more by Diego Argoti d'Estrano, including a standout vegan bubble waffle drizzled with agave, tahini and crisp chili, plus occasional sidewalk pop-ups by Estrano and a handful of other Virgil Village popup chefs.
The beverage: A cider lover's dream, Alma's offers a modest selection of beers, an impressive array of hard-to-find ciders, and a few non-alcoholic options that get the job done. At Martinelli's, anyone?
Time out advice: If you want bang for your buck, go for a larger bottle of cider at Alma, as many selections easily serve two to four, making it quite buzzy for less than $40 per person.